Good Morning,
As expected the AIIMS (All India Institue of Medical Sciences) has put up Admission Notice For January 2018 Session.
The Admission is for all 6 AIIMS in India, AIIMS (New Delhi, Bhopal, Bhubaneshwar, Jodhpur, Raipur & Rishikesh)
Here are the important dates:
Online Registration will begin on: 12th September 2017.
Online Registration closes on: 03rd October 2017.
Examination Date: 12th November 2017
Exam Timing (Dental Course): 2.00 PM to 3.00 PM
Centers: Cities all over India.
IMPORTANT LINKS:
AIIMSEXAMS.ORG – Advertisement/Corrigendum
AIIMSEXAMS.ORG – Registration Page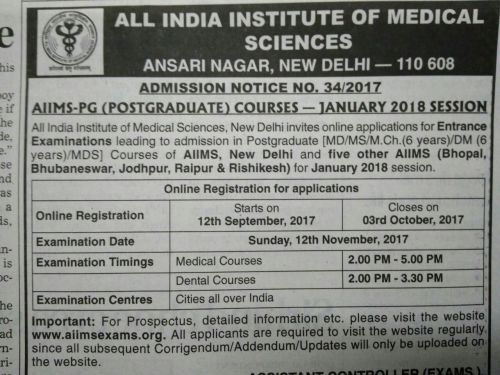 This image is taken from a leading newspaper in India.
Best of Luck!
Last updated on April 2nd, 2020 at 09:35